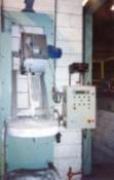 The Parafeed Unit is an electro mechanical device comprising of a twin set of hardened steel drive rolls driven by a 3KW invertor controlled electric motor coupled to a heavy duty gear unit.
Power is transferred to the drive rolls via 2 off heavy duty timing belts 50mm. wide, giving long maintenance free performance.
Pressure is applied to the wire via two hardened steel idler rolls using an adjustable pneumatic assembly allowing the operator to vary the pressure applied to the wire accordingly.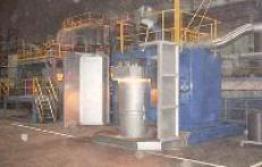 Length measurement is achieved by pulses generated by an idler roll which is independent from the drive rolls and is able to detect slippage, wire breakage, lack of wire etc. Pressure is applied to the counting roll via a pneumatic cylinder. Pressure can be varied to suit the type of wire, limiting the deformation whilst maximising the driving force applied to the wire.

The area containing the heavy duty timing belts and counting device is completely sealed from the foundry environment and is accessible via easily removable steel guards. Drive roll area, containing clamping mechanism, counting roll and guide bushes, is accessible to the operator via a steel door mounted on the front of the feeder head. Inch forward and reverse including emergency stop are also mounted to the feeder head and is operative whilst guard is open allowing ease of wire change. All parts in contact with the wire are case hardened, drive rolls manufactured from tool steel and through hardened.

The Parafeed is available in various sizes.

To view a video of the Parafeed click (here)